Press
Interview with Tony Gulizia: Vail's 4th, 5th graders in sweet spot
By Vail Jazz
Interview with Vail Jazz Goes to School Director of Education, Tony Gulizia
by Steve Chavis for KUVO Jazz, KVJZ
Pianist-vocalist Tony Gulizia (Tony G.) has spent the last 18 school years surrounded by fourth and fifth graders at every school in Eagle County via the Vail Jazz Foundation's "Jazz Goes to School" program.  Gulizia said that early age is the "perfect" time for jazz education.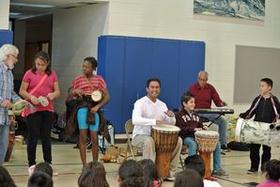 "Kids that age are a little more aware of jazz music, and they're getting ready to perhaps start an instrument in elementary school or middle school," said Gulizia.
A hot number for Jazz Goes To School is Henry Mancini's theme to "The Pink Panther," including Plas Johnson's sax solo.  "They hear a walking bass, they hear the swing style, they hear the improvisation."  The JGTS curriculum includes the African roots of jazz and a jazz quintet performance.
"Vail Jazz Foundation founder Howard Stone has always had a deep appreciation for the importance of educating young students about America's great music form," said Gulizia.  "Jazz Goes To School" has reached nearly 20,000 fourth and fifth graders since 1996.